Cladding Inspection, Survey & Maintenance
experts in Commercial Cladding work

Difficult Access Cladding Services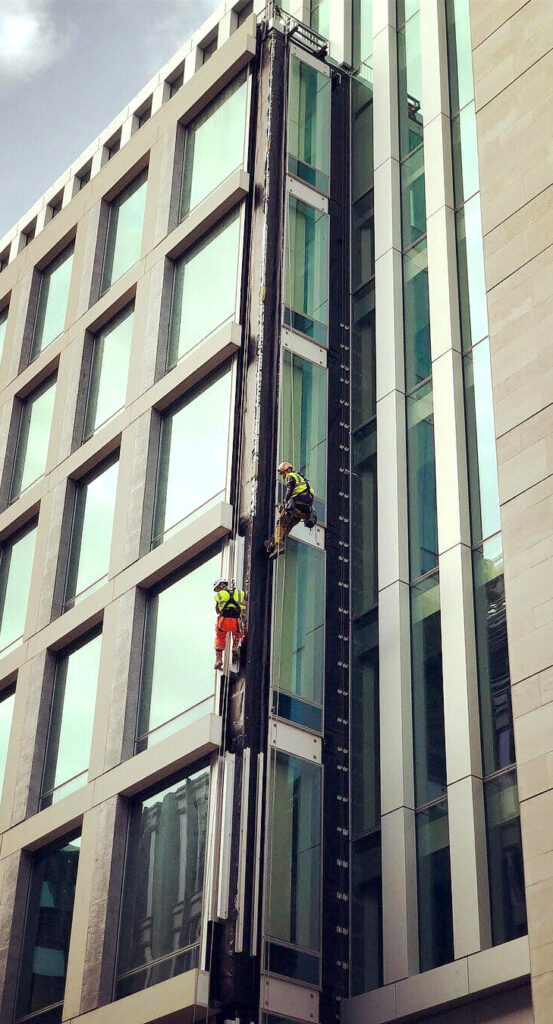 The exterior facades of many modern buildings are constructed from numerous component parts. These components may have been installed on-site or assembled in a factory to form a cladding unit. Recent building designs have been tailored to achieve some stunning appearances using an ever-increasing variety of materials but coupled with such diversity comes the potential for problems associated with design, workmanship, durability of materials and security of fixings.
Dynamic Access undertake expert independent condition surveys on all types of commercial, industrial, residential and historic buildings. All our surveys are performed by our specialist team of highly experienced IRATA & IPAF qualified buildings surveyors and civil engineers.
At Dynamic Access, we specialise in surveying cladding systems, both for general defects and cladding system pathologies. Using rope access techniques allows an unparalleled speed of data gathering and survey accuracy to be achieved, without the exposure to the high costs involved in scaffolding erection or the installation of powered access systems.
Wherever possible, we always undertake thorough literature reviews of the cladding panel specifications, construction drawings and related documentation prior to embarking on the survey, in order that we thoroughly understand how the system was installed.
IRATA & IPAF Trained Teams
Using a combination of expertise and intrusive inspection and testing, our specialist team of IRATA and IPAF qualified building surveyors and facade engineers can accurately and reliably:
Survey the general condition and integrity of rain screen cladding systems and curtain walling.
Evaluate whether the system has been correctly installed, identify workmanship defects, and whether the installation meets design specifications
Examine for the presence and construction of cavity barriers, fire breaks, and other fire-stopping measures;
Identify and record oxidisation and corrosion of cladding panels and fixings.
Borescope examinations and sample collection.
Intrusive and invasive inspection to reveal cladding system internal structure details, insulation identification, rail build-ups and interfaces, and primary and secondary steelwork construction.
Mobile spray bar and controlled pressure leak testing, all performed in accordance with CWCT and UKAS standards.
Comprehensive and accessible reports and schedules of defects are produced by our building surveyors that allow our clients to reliably plan and cost remedial works, significantly reducing their risk of exposure to project uncertainty.
We also partner with one of the UK's leading specialist Façade Consultancies, to harness the best engineering support and professional review of survey outcomes.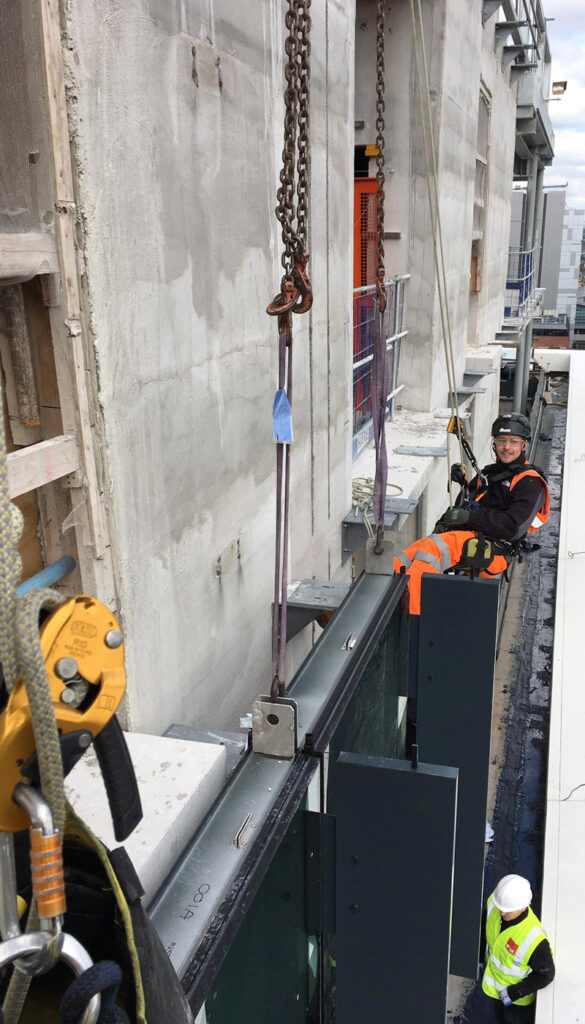 Take a peek at some of our recent projects
Feedback from recent clients
Jamie Kerr
Facebook Review
Dynamic access have been installing horizontal and vertical safety lines on our Liverpool hospital 500million pound rebuild project, they have been professional, reliable and competent in all aspects of work. The MD has also accommodated our impulse requirements and for that we are truly thankful. Highly recommend this company and look forward to an on going working relationship with josh and his team.
An excellent rope access company operating in London, Birmingham and Manchester. Professional level of service. They use highly trained IRATA certified Rope Access contractors. I would highly recommed. 5*.
Daniel Sanders
Facebook Review
Excellent service from start to finish, on time, safe, polite, true professionals of their industry, thanks to Josh and team for the awesome job they did for us.
John Jason Ebdon
Google Review
Top company had a problem that other companies made it out to be a big job nothings seems to be a problem to these guys and a great price too would recommend thanks to Josh
Ed Gallagher
Facebook Review
Dynamic Access have been working at one of RBWM's public libraries. the library is grade II listed and has an extremely challenging architecture. no other company I approached were prepared to carry out the external cleaning in the way these guys did. from start to finish they have been professional and willing to find solutions not excuses. thanks for a great job we will be using you again in the future. 5 star service.
Sam Collins
Facebook Review
Fantastic work. Professional and efficient.
available from 07:00 – 19:00
Email: info@dynamicaccess.co.uk