Specialists in atrium cleaning & maintenance
Here at Dynamic Access we can cater for all of your atrium needs. Just because it looks impossible to access from the inside does not mean you can only maintain the outside. Our technicians are specially trained to 'access all areas' utilising various skills and equipment we offer internal and external maintenance programs which include cleaning, torque testing of the fixings, inspections, seal services, unit replacements and complete renewals.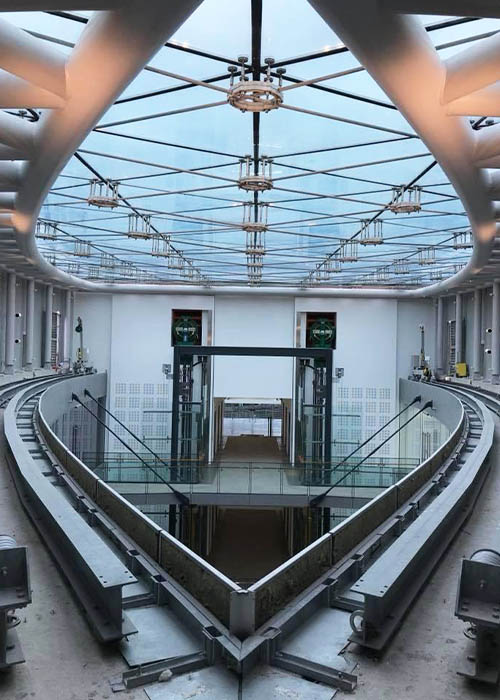 To avoid disruption, very often we carry out work at night. This means minimum interruption for your business operations.
As our access systems reduce the need for scaffold or cherry pickers, set up time is very short. Most of our access systems can be removed between shifts.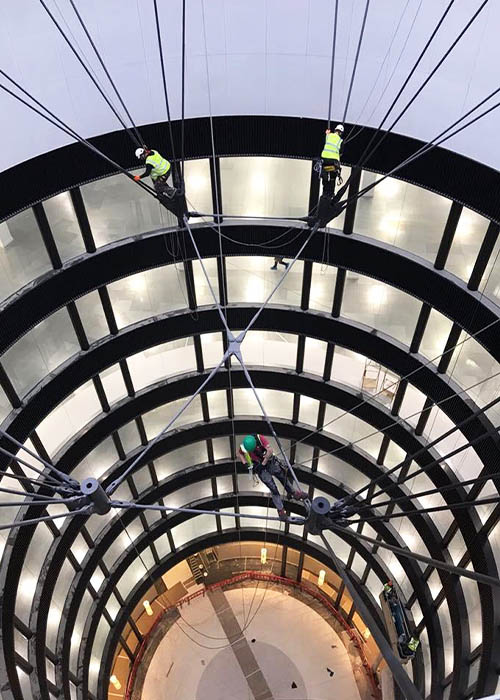 Our wealth of experience means you can be confident knowing the maintenance of your atriums and internal roofs is in expert hands.
We are IRATA qualified, this ensures we maintain the highest standard of work in the industry.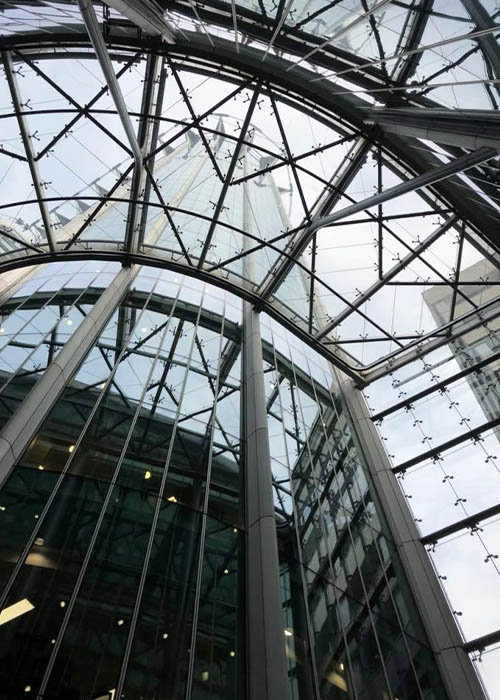 Calculated Risk, Safe Execution.
Provision for rescue from atria is paramount. We take great care to ensure that before any work is carried out, the persons working at height have the ability to efficiently rescue an injured person from any point in the atrium.
At Dynamic Access we only use highly qualified and experienced personnel trained to IRATA industry standards.
Take a peek at some of our recent projects
Feedback from recent clients
Jamie Kerr
Facebook Review
Dynamic access have been installing horizontal and vertical safety lines on our Liverpool hospital 500million pound rebuild project, they have been professional, reliable and competent in all aspects of work. The MD has also accommodated our impulse requirements and for that we are truly thankful. Highly recommend this company and look forward to an on going working relationship with josh and his team.
An excellent rope access company operating in London, Birmingham and Manchester. Professional level of service. They use highly trained IRATA certified Rope Access contractors. I would highly recommed. 5*.
Daniel Sanders
Facebook Review
Excellent service from start to finish, on time, safe, polite, true professionals of their industry, thanks to Josh and team for the awesome job they did for us.
John Jason Ebdon
Google Review
Top company had a problem that other companies made it out to be a big job nothings seems to be a problem to these guys and a great price too would recommend thanks to Josh
Ed Gallagher
Facebook Review
Dynamic Access have been working at one of RBWM's public libraries. the library is grade II listed and has an extremely challenging architecture. no other company I approached were prepared to carry out the external cleaning in the way these guys did. from start to finish they have been professional and willing to find solutions not excuses. thanks for a great job we will be using you again in the future. 5 star service.
Sam Collins
Facebook Review
Fantastic work. Professional and efficient.
available from 07:00 – 19:00
Email: info@dynamicaccess.co.uk